The Simply Organic line combines our warm Scandinavian design with a global environmental consciousness.
The clean colors and organic cotton combine together to form a sustainable collection of high quality and environmentally friendly products that will give a sense of tranquility, both in home and in mind.
To quote a favorite phrase we heard: "Don't Panic, It´s Organic!" Translated, this means that you can trust the products to bring you the best from the organic world while keeping true to the aesthetics of the design and the high product functionality standards we have.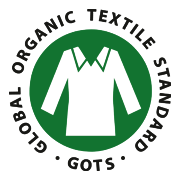 The Global Organic Textile Standard (GOTS) :
Our organic line brings you sustainable organic products using only GOTS certified cotton, because we care for the environment and the people who make each product.
GOTS imposes strict environmental criteria and labor regulations across the whole supply chain and covers all processes, such as dying, printing, knitting, sewing and more!
GOTS also has a CSR policy included into their certification, ensuring the welfare of each worker involved in your Simply Organic product.
You can read more about GOTS at www.global-standard.org